Why to choose VPS Hosting?
VPS or Virtual Private Server is a great web hosting solution for those who seek better performance, reliability, and security from their web properties while keeping the cost low. Know more about why to choose VPS?
Key Deliverables of VPS Hosting India
Harness the digital wave with our VPS Hosting Services
Test Platforms
Go4hosting lets you quickly spin up VPS from anywhere and test how your apps respond to different tests. You can then run tests and ensure your apps are bug-free before the final deployment.
Unlimited Domains
Our hypervisors (Type I) create a fully sandboxed environment that can host multiple sites at once without impacting the individual response time of each site. Multiprotocol label switching ensures your network can manage traffic without downtime.
Online retail and e-Commerce
Go4hosting's servers come pre-installed with OpenCart, Magento, or any other e-commerce framework of your choice. With us, you enjoy a readymade platform where you can start coding your next e-commerce website.
Database management
Easily move your files between legacy systems and an online database with MySQL-VPS, especially provisioned by our experts to facilitate DB management. Each DB also comes with admin, super admin, and user access to enable various control levels and work distribution.
SMTP Servers
Give your emails a professional makeover with our simple mail transfer protocol (SMTP) VPS and exchange unlimited emails back and forth. Simply setting up an SMTP will enable you to use our existing VPS as an email server.
CRM and ERP compatible
Our servers are compatible with a plethora of tools, including CRM/ERP. It helps you engage your customers and build healthier relationships. Our high-end data centers ensure that these apps work smoothly.
2x, 4x, 6x, and 8x (dual-8x) CPUs
Launch your business apps on compatible CPUs, with up to 32 cores and twice more threads, configured with latest-gen XEON chips.
Low latency MPLS connection
Multiprotocol label switching (MPLS) on our network enables faster data forwarding and increases transfer speed, enhancing user experience.
Faster reboots and sleeps
NVMe SSDs read/write up to 2x faster than hard drives and allow for faster reboot and patching, should you need one.
Malware and spyware protected
Firewall and anti-spyware programs safeguard all network nodes and VPS entry points. Moreover, every connection on our VPS is two-way encrypted.
Strike the right balance between Control and Convenience
Choose between three management levels of VPS Hosting Services
Fully Managed VPSWe'll manage everything and anything on your server, including patches, updates, maintenance, and, to some extent, application deployment.

Semi-Managed VPSWe'll take full responsibility for anything in the backend, but the front end is yours to manage.

Basic Managed VPSYou will have maximum control, and we'd only do enough to get the lights on and your applications running.
OS Supported
Windows

Convenient computing.

Windows 2012 STD x64

Windows 2016 STD x64

Windows Server 2008 R2

Windows 10 Enterprise x64

Windows Server R2 STD x32

Linux

Open-source and control-oriented.

CentOS, Red Hat, RHEL

ClearOS

Ubuntu, Debian

Fedora, openSUSE

Arch Linux, Elastix…and more
Didn't see a suitable solution?
We are entirely customizable. Chat with us to quickly set up things the way you want.
Get, Set, Launch.
No hidden costs

1

No setup charges, zero security fee, and nil upfront payments.

Unified cPanel

2

Host multiple websites with one cPanel for all your actions online.

Dual Firewall

3

Our firewalls reinforce network at both entry and exit points.

Switch plans

4

Slide between subscriptions and VPS plans anytime you like.

Fully Bare metal

5

Go4hosting's VPS are actual bare metals, like dedicated servers.

20+ distros

6

We support 20+ distributions including SUSE, RHEL, Debian, and Fedora.
Why Virtual Private Servers?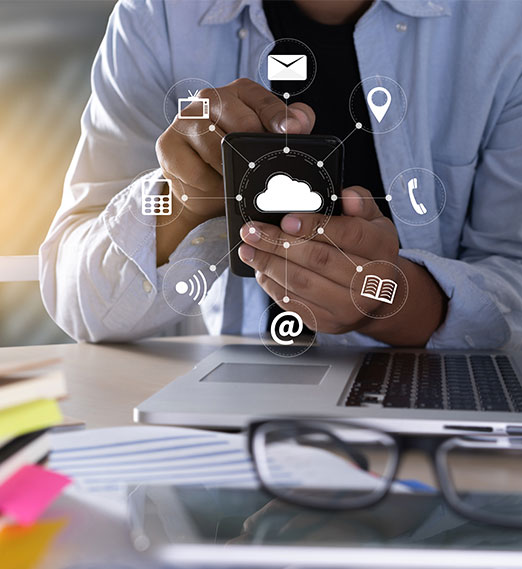 VPS provide a right mix of benefits of cloud and dedicated servers
Slashes down hardware - VPSes are entirely virtual, provisioned in a remote environment involving no upfront, and thus slash down your hardware upfront by up to 70%.
Single-tenant only - Each virtual segment on a virtual server, idle or running, has committed resources meant for you and you only.
Hadoop/Mongo/SQL - VPS workstations support database management apps just as diverse as dedicated systems.
VPS Hosting in India: Where Affordability Meets Performance
Virtual Private Server (VPS) Hosting in India seamlessly integrates the strengths of Dedicated and Shared hosting. Thus striking a balance between dedicated resource provision and the cost-effectiveness associated with dedicated hosting.
Renowned for its ability to curtail IT costs while optimizing operational efficiency, VPS hosting enhances security, privacy, and control levels. Clients benefit from a dedicated portion of server resources, encompassing CPU and memory. Thus effectively blending the finest features of both dedicated and shared hosting.
Within this hosting paradigm, the host takes charge of server management, alleviating clients from the complexities of intricate infrastructure tasks. It not only ensures operational ease but also provides clients with unparalleled peace of mind. This model can be further classified into two sub-divisions: Managed VPS hosting and Unmanaged VPS hosting.
Why go4hosting Should Be Your Choice for VPS Hosting in India?
Transparent Pricing
At go4hosting, we prioritize transparency in our pricing approach, ensuring no hidden costs to our clients. Our model eliminates setup charges, security fees, and upfront payments. As a result, we provide you with the confidence to embark on your cloud journey without the worry of unexpected expenses.
Streamlined Online Operations with Unified cPanel
Simplify your online endeavors with our unified cPanel, offering an intuitive control panel to effortlessly manage multiple websites. Bid farewell to the complexities of navigating different interfaces and relish the convenience of centralized control.
Enhanced Network Security with Dual Firewall
Recognizing the paramount importance of security in the digital landscape, our robust dual firewalls reinforce both entry and exit points, ensuring enhanced protection for your network. Rest assured, your data remains secure and guarded against potential threats.
Flexible Subscription Switching
We acknowledge that business needs evolve, which is why we provide the flexibility to switch between subscriptions and VPS hosting plans in India at any time. Whether you need to scale up or down, enjoy the freedom to adapt your cloud resources according to your requirements, free from constraints.
Powerful VPS on Bare Metal Infrastructure
Experience the robust power and performance of our VPS, built on an actual bare metal infrastructure similar to dedicated servers. Benefit from the cost-effectiveness of virtualization coupled with the reliability of dedicated hardware.
Diverse Operating Systems with 20+ Distros
At go4hosting, we value diversity and cater to a wide range of preferences. Choose from over 20 distributions, including popular options like SUSE, RHEL, Debian, and Fedora. Select the operating system that best suits your needs and enjoy seamless compatibility with our cloud platform.
Twice the performance, Half the price
Performance is our number one priority. We aim to deliver robust servers at the lowest possible price. go4hosting has ascended in the IT industry by curating a comprehensive suite of services designed to provide invaluable support to our clients. Each service we offer is meticulously crafted with a dual focus on cost-effectiveness, benefitting both our clients and our own operations. Our solutions are thoughtfully designed to address the multifaceted needs of the dynamic technology services sector, delivering versatile value when implemented.
Complimentary SSL
Securely transfer files with protected file transfer protocols. With SSL, your website is less likely to come under attack. Moreover, you would also do better in search results.
Performance-Oriented Compliances
We are an ISO-compliant, CMMI-level V Company. We have been certified with the latest security and service-level compliances. Don't worry; your data is safe with us.
Dedicated Account Manager
We offer a dedicated account manager even with the cheapest VPS hosting plan. The a/c manager shall be your point of contact for every problem related to your server.
Ability to Concentrate Fully on Business Goals:
With go4hosting managing your Virtual Private Server, you can leverage your in-depth business knowledge to grow and thrive. Our VPS hosting solutions are designed with automated systems and redundancies, ensuring your valuable time is dedicated to strategic business endeavors, not server maintenance.
Scalability, Flexibility, & Expandability in All Directions
Efficiently allocating processor time, memory space, and network bandwidth among various business processes, go4hosting's Virtual Private Server hosting excels in adapting to workload demands. Thus ensuring robust performance across diverse requirements.
What Is The Right Time To Make a VPS Move?
As is the case with many technological leaps that require a bit of faith, Virtual Private Server hosting might take some getting used to, especially for someone who is not proficient with the technology. Clients who have not assembled in-house technical teams should definitely opt for a go4hosting Virtual Private Server to ensure no vulnerable aspects in their system.
If you are a business owner seeking growth, VPS hosting is inevitable.
To put it briefly, anytime is good to move to go4hosting's cheapest VPS hosting. We ensure a smooth shift from legacy systems that may be taking up space in your office as an on-premise solution. Replacing old legacy systems is a surefire way to speed up your business processes and also expand into newer domains that will open up once you migrate to the go4hosting Virtual Private Server hosting platform.
Our VPS solution is so Light On Pocket, It Makes You Fly…
Our Range of Cheapest VPS Hosting Services in India
Managed VPS Hosting: We take complete and utter care of all related processes for your Virtual Private Server. You can rest assured that all your technical issues regarding the VPS, from the largest to the smallest, will be addressed.
Unmanaged VPS Hosting: For clients who have unshakeable faith in their internal IT team's competency and capability, we highly respect their admirable resolve. We provide all the Virtual Private Server features they require since the success of our clients is of prime importance.
cPanel VPS Hosting: Gain complete command over your Virtual Private Server system by activating its advanced management capabilities. These capabilities are seamlessly integrated into cPanel, one of the industry's most popular software packages for overseeing Virtual Private Server hosting systems and various other configurations.
Plesk VPS Hosting: Accommodating the varied features of control systems into one efficient interface is only one of the many advantages of Plesk, which Go4hosting uses to the fullest extent. VPS hosting becomes a cinch with the capabilities of the Plesk panel.
SSD VPS Hosting: Solid State Drives (SSDs) exhibit impeccable data persistence, minimal latency in data retrieval, exceptional power efficiency, and cost-effectiveness. These qualities collectively render SSDs an outstanding choice for bolstering Virtual Private Server (VPS) hosting solutions.
AWS LightSail: Experience the boundless potential of cloud computing right at your fingertips through the effortless integration of Amazon Web Services LightSail cloud-based virtual servers into the Go4hosting Virtual Private Server hosting systems. It enhances their already sophisticated capabilities.
Ubuntu VPS Hosting: Operating systems and foundational platforms play a crucial role in executing the intricate processes that constitute the core of our client's services to their end users. Their appropriateness for various applications significantly impacts overall performance. Ubuntu, an open-source software system, stands out as one of the most favored choices in this regard – and at go4hosting, we share a deep appreciation for its capabilities!
Forex VPS Hosting: The go4hosting Virtual Private Server hosting framework expertly manages the intricate algorithms designed to optimize the portfolio value of foreign exchange traders, ensuring they perform just as effectively as intended by their creators.