What is Server Migration?
Soon in your journey towards digitalization, you will be faced with the question of migrating data to a more robust server or another way around. Server migrations have become an important aspect of today's digital world, given today's IT relies on rapid deployments. How rapidly you migrate to a new server will become the key in determining operational capability in the future. If you have often stumbled upon the term server migration without an idea of what it implies, this article will help you. Continue reading.
What is Server Migration?
Server migration is a technique in which data is positioned from one server to another. The reasons behind server migration are security concerns, equipment is being replaced and many other factors. Server Migrations are often performed by tech experts, who have expertise on server maintenance, up-gradation and migration. While it may appear as an ordinary click and enter process, server migration needs a lot of contemplation. If you move data to a new server without any thought on the impact, you are likely to face troubles starting day one.
Although it is unlikely that you would choose to pursue migration to a new server without consulting an expert, if it were so, we recommend you to draft a migration plan carefully. During the migration process, data on the server may be temporarily inaccessible. Before server migration takes place, a plan is outlined in order to prevent data loss. The server specialists, performing the migration may need to reformat the data so that it will be accessible to the new server. To achieve migration smoothly, data must be backed up properly.
In some cases, when data is being migrated between different kinds of servers, however, it is necessary to reformat the system. Once all of the data has been moved, it is subjected to authenticate that it is intact and no parts of the data have become corrupted from the transition. Get also details of Pulse CMS.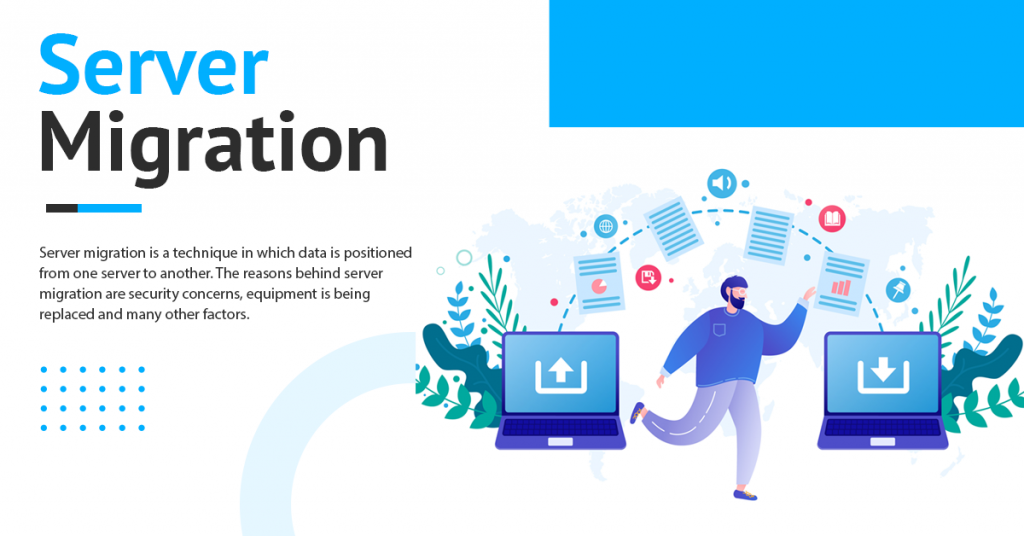 How long does a server migration take?
The time needed to migrate from a server is dependent on the amount of data. The higher the number of files and scripts, the more time it will take to completely move to another server. Typically any small website or ecommerce platform takes about 30 minutes although some websites may take up to 3 hours.
How to Migrate a Server to Another Server?
The crux of the matter is, migration is not as easy as it seems but is not rocket science either. With some knowledge and research, you can easily understand what lies underneath this otherwise complex process. The first thing to bear in mind while migrating to a new server is the aim or goal you are intending to achieve. Typically, we have seen people upgrading their server due to increased traffic, better performance, improved controls, more freedom on what can be done, and enhanced customizability. On the other side of the pool, there are people who downgrade to low-end servers for the sake of cost-reduction. Below, we have listed server migration steps you should go through to have a quick glimpse of what goes on during migration.
– Anyways, the first step is to get your migration-aim figured out. This involves determining whether you should upgrade or downgrade your server. While upgrading choose a characteristics you are looking for in particular.
– Second, choose a server that best fits your requirements. An expensive server is not necessarily the best. Remember, you should typically be looking for a hosting plan that best suits your needs.
– Once done, it is time to draft strategies. Note that depending upon how you migrate to a new server, your website may go unavailable for the moment. This could have a devastating impact unless you are extremely careful. To tackle this wave of the tide, always move your website when there is the least amount of traffic on your servers. Tune your clock to the timings of the region you operate. This would require months of planning and monitoring to be successfully implemented.
– Next comes the hour of test. You can always prioritize data based on their importance to the organization. There are files that would not impact your website's performance even when deleted. Moving such files before other files could help you highlight faults in your data center migration plan. This would give you enough time to work on these flaws and avoid blunders that would have taken place had you moved important files first.
– When successful, you can move on to mapping your domain to the new IP and that wraps it up.
What are migration tools?
Migration tools are simply utilities that automate moving and managing data in case of migration.
There are a number of open-source migration tools available that work regardless of the operating system you are on. In order to carry out migration with these tools, all you need to do is map current IP and enter your hostname. In the next screen enter your new IP and other details when prompted. Click migrate and wait till your data is moved.
What are Windows Server migration tools?
Windows server migration tools are application that help developer and system administrators migrate their Windows server.
It is a built-in tool that comes in more or less every Windows Server (2003 and later).
What does Migrating Hosts Mean?
Migrating hosts means moving your data from a server of one host to another host. If you are moving on to a new server, you aren't doing so without a host. There could be one or two hosts involved. When migrating to a new server from the same host, the migrating host will be the same as the original host. However, if you are planning to position files to a new server with a new host, the migrating host will be the one where files are being finally moved.
What are 4 types of Server Migration?
Server migrations can be classified in a number of ways, depending upon the operating system, technology involved, and the server to which the data is moved. Some common types of server migration include:-
Mail Server Migration
–
Data is moved between email servers migrations within the same or different hosts. In mail server migration, only your exchange scripts are moved. You may choose to keep or ditch mail threads in your mailbox.
Virtual Server Migration –
 Migration involving virtual servers. In a VPS migration, you can move from either one VPS to another or one shared servers to another virtual private server. In VPS migration, you eventually switch to a virtual private server.
Ubuntu Server Migration
–
When data is being moved to servers running on Ubuntu. Ubuntu servers need not necessarily be virtual or dedicated. Any machine running an Ubuntu OS is an Ubuntu server and any migration destined to such a server is Ubuntu server migration.
Cloud Server Migration
– Cloud server migration is all the hype these days. It involves positioning data to the modern, scalable cloud servers.. Cloud migrations have become more and more common as businesses have started building trust and are readily moving to better clouds.
Server migration also has a 5th type called the application server migration.
Application Server Migration
 Servers that have applications hosted are the ones said to undergo application server migration every time files are moved from these servers. When you switch to an application server, you get a pre-configured platform where you can start hosting apps.
Importance of server migration in today's world
Data is of utmost importance in today's IT, so it is imperative to make sure to lose no bit of data during the server migration. One of the key methods to attain a flawless migration is prioritizing data on the basis of its importance to the organization. No doubt, every bit of data is crucial, but there is bound to be data your system would not mind losing. Once the data has been prioritized, the less crucial ones are moved. Any loophole that may have crept in the server migration plan would be identified at the first stage itself. This will buy you enough time to extirpate loopholes and save a server migration disaster.
Server migration is not a child's play. No matter how well you draft a migration outline, there is bound to be some downtime while server migration is in process. So, carefully work out a plan months in advance. Note at what time you generally have the least traffic on your server and migrate accordingly. In case you need more help, contact Go4hosting's professionals here.
Having digested the above data, we now explore some of the tools server migration typically involves. To get done with things quickly we have restricted our discussion to Windows tools, you can always log on or contact our support team if you need more assistance or information on how these tools function –
– IBM InfoSphere
– Talend Data Integration
– Centerprise Data Integrator
– Informatica PowerCenter
– Oracle Data Service Integrator
Issues when migration must be considered-
 

Your current host is on internal servers and which is no longer ready to take any more strain. So definitely consider

migrating servers

in situations like these.

When your current hosting service is supported by a third-party service provider and who do not want to continue with its service.

Your current hosting provider is too far away at an offshore location. With a simple and quick

server migration process

, you can move your hosting service to a nearby location.

 

If you are tired of not getting control over your server due to the conditions of your present hosting service provider.

 

When you are not satisfied with the customer support services of your present hosting service provider and they are also not ready to scale up as per your requirements, then

migration of servers

is the last resort.
What are the challenges to face during server migration?
The server migration plan is an overall complex effort that is comprised of multiple challenges. It's because migrating server means practically moving hundreds of millions of data and records which is pretty much complex. Such complexities bring unnecessary and prolonged delays in the server migration steps. These challenges are-
Complexity of the Source data-

As data has to migrate in bulk, issues tend to occur at the source level. It's not as easy as moving data between two sources within the content management system. Complexities related to source data include-
–   It might need a lot of data transformations as different mainframes store data in different ways. A modern database will not support your outdated data storing format. Generally, databases based on Oracle, SQL, etc. need data transformation as they are more of a modern data storage format.
–  Your new data format to which you are migrating might not support long-tail codified fields. Breaking down or decoding such information is a bit of complexity. This information can be like sequence numbers, dates, member identifiers, etc.
–  When you have been in the same content management system for a very long time then the same data can be stored at more than one location. The task of finding such multi-located data and then correcting it is called data normalization.
Corrupted or lost data
Data loss and corruption is the biggest challenge of the server migration plan. A single record misplaced can cost you millions. So server migrations must be strategized accordingly to avoid any unexpected data loss. Data loss can be of the various form like-
– Sometimes there is a misinterpretation regarding the data which is brought in or which is produced in the new system. This confusion generally arises when a set of data is duplicated. To avoid such complexity thorough research is needed.
– The data migrated to the new server environment should fulfill all your expectations and for this, it needs to be validated. Non-validated data once migrated into the new system can cause many complexities. Thus, you need to have tools to validate your data that has to be migrated.
 

Unmanaged cost-

Sometimes, people don't refer to server migration support at all. This leads to establishing obscure KPIs relating to the expenditures been made or could have been saved in the process. For this, it's important to keep a check on the deviations from the ideal server migration cost model. Making a clear cut business cost model and laying down all the possibilities wherein you can save any costs would be the best way to eliminate unnecessary costing.

 

Avoid jeopardizing data security –

Sometimes while server migration, data security gets jeopardized. This happens when all your data and applications get migrated but some of the essential security tools are left behind on-premise. For this, you need to build a deployment plan that makes sure that none of the tools are left behind. The applications that are still in their developing or testing phase should be migrated with a little bit of extra care. This is because such applications are more vulnerable and tend to get disrupted much easily.
The tools mentioned above are all on premise. Means, they are hosted on the same infrastructure as the server.
A quick quiz – Which of the following describes the windows server migration tools?