What is Distributed Data Store?
A computer network where information is stored on more than one node, by means of data replication  it is termed as Distributed Data Store. It is used to refer to a distributed database where users store information on a number of nodes, or a computer network in which users store information on a number of peer network nodes. Distributed databases are usually non-relational databases that make a quick access to data over a large number of nodes possible. Some distributed databases expose rich query abilities while others are limited to a key-value store semantics. Peer network nodes on the other hand allow users to reciprocate and allow other users to use their computer as a storage node as well. Information may or may not be accessible to other users depending on the design of the network. Some peer-to-peer networks do not have distributed data stores in that the user's data is only available when their node is on the network.

What is distributed block storage in DBMS?
Block storage that is scattered within a datacenter instead of being cluttered at one server is called a distributed block storage.
The advantage of scattered block volumes against a normal block is that it helps improve the overall datacenter utilization and distributes workload uniformly in a server farm.
What is a distributed data system?
A distributed data system is one in which files, scripts and images are stored in more than one server or volumes rather than a single server as in traditional systems.
A distributed system is touted as safer and better and sometimes faster than the legacy data systems. Organizations deploy a distributed system to increase server performance and to decrease the effective load on the system.
As a data distributed storage system makes use of multiple computers, load balancing comes very naturally. Tasks are fashioned in the most coordinated manner. They make use of such distributed data storage techniques that can never be imagined with a single system setup.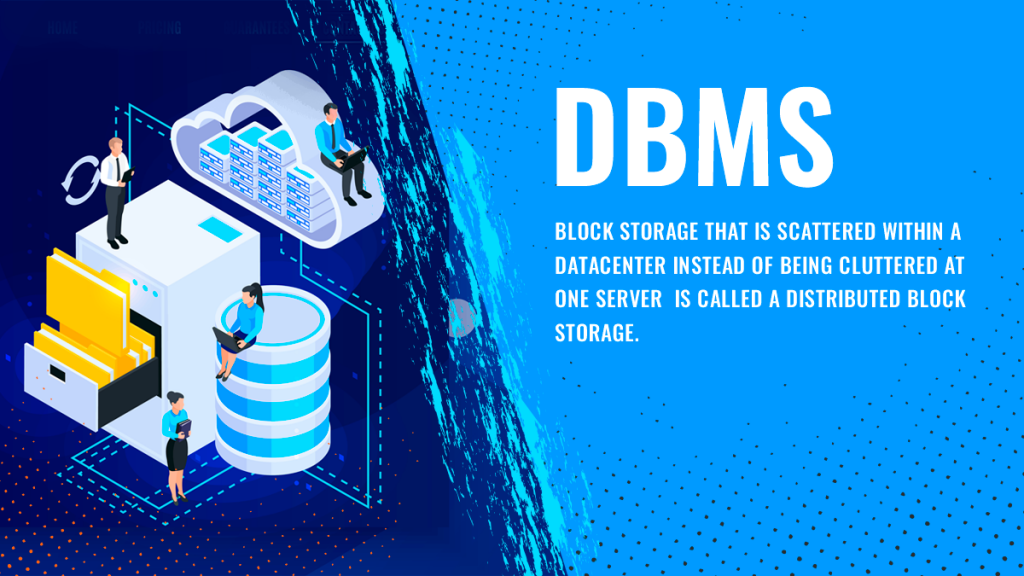 Distributed data storage becomes even more essential when there are complex tasks involved. This is because complex tasks involve complex networks and take a lot of time in operation as well as implementation. The distributed data storage purpose is to not let all your resources to concentrate on a single task. Rather it distributes the resources evenly across all the channels. Depending on the past observations, the distributed data storage approach has proved to be more powerful and resourceful than stand-alone systems.
The best example of a distributed data store is a typical gaming system network. Here a central set of servers behave as the backbone of the game while the rest of the machines take care of other processes.
Due to its benefits, there is no such process that cannot be operated through a distributed database system. Any kind of device starting from a simple cell phone to smartwatches can be a part of the distributed data storage system. This shows the great future and scope of cloud distributed database service ahead and room for the invention of more advanced distributed data stores.