What is SEO Hosting?
SEO hosting is a term that continues to baffle professionals irrespective of their work-domain. Having received a ton of queries and questions on dedicated SEO hosting, we decided to devote an entire article on the same. Being a prominent SEO hosting provider, we understand that unless presented with a crystal clear explanation, search engine optimization (SEO) could involve significant learning curves.

What's the point of SEO Hosting?
SEO Hosting is using traditional and non-traditional methods and techniques of optimizing websites, increasing traffic and converting leads into sales.
SEO Hosting is considered as an investment since it provides significant returns in the future. With this type of hosting, the client's website turns into an asset and helps in increasing sales and profits. It also helps in creating and enhancing brand awareness. The client can even create multiple sites and attain high ranks for all of them.
Does hosting matter for SEO?
Yes, hosting directly affects performance of your website and is an important factor in a website's SEO even though it has no direct role. Hosting your website in slow, outdated servers will impact load times and allowed traffic limit and will hurt your website's SEO in the long run. Upgrading to faster servers will help improve your site's load speed and traffic endurance, thereby enhancing your SEO metric directly.
Does hosting country affect SEO?
The closer your data center to the end user, the faster your website will load. Moreover, search engines almost always prefer sites hosted on local server in SERPs. It is recommended that you host your website as close to the end user as you can because doing so will directly benefit you in local search results.
Thus, as a rule of thumb, one should host their website in close proximity to the consumer location.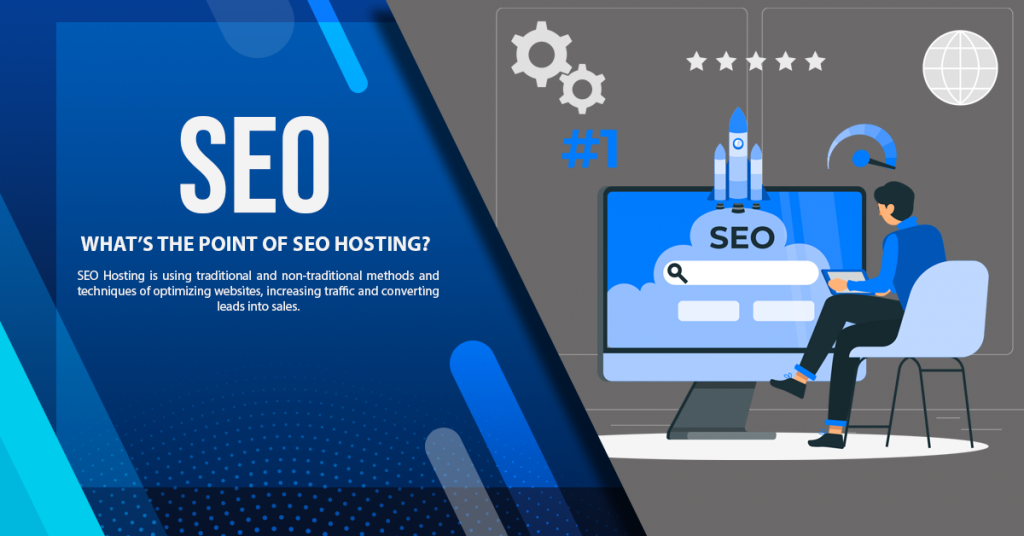 As an online business, you can leverage SEO hosting in two ways –
– Drive more traffic to your website, generate more leads and up the revenue from online sources.
– Incorporate reseller SEO hosting as one of your services and begin doing for your client what you have been doing for yourself.
It takes a lot to optimize a web site for the search engines. And that is why SEO Hosting is deemed as vital for web sites keen on increasing the number of visitors. The presence of outsourced SEO Hosting support makes the management of optimization strategies easy. The client should remain in total control of his website all throughout the duration of the service. The client can modify a number of factors without abiding by the terms and conditions of other web sites.
Types of SEO hosting services
SEO Hosting services can be classified into a number of types based on the type and platform on which the service is offered –
– Dedicated SEO Hosting
– Reseller SEO Hosting
– Business SEO Hosting
Which website should I do SEO for?
You can do SEO for as many websites as you can. Also, you should target every single webpage on your website for SEO. Ideally, a website will comprise of more than a thousand pages. In such scenarios, you always have the option to selectively target important pages and later return to other pages.
Is SEO location specific?
Obviously, yes. SEO is location-specific targeting. A webpage that might rank in the US might not rank anywhere in Germany and vice versa. Different locations will involve different SEO strategies, though the overall concept will remain the same. Thus, so to speak SEO Hosting USA might be based on an entirely different strategy than SEO Hosting in Germany.
Should I rely on SEO Hosting Website?
You can rely on any SEO hosting provider, regardless of whether he operates his business online or offline. Though, it is of utmost importance that you choose a provider with proven tracks as some vendors deploy black hat techniques for faster results. Black hat techniques are those that search algorithms have deemed as illicit. Black hat could prove to be fatal as you run a serious risk of domain getting blacklisted or banned from the internet. It is imperative to search for a reputed SEO Hosting provider who uses ethical practices since Google penalizes sites that use black hat techniques.
Sometimes, the web hosts that provide SEO Hosting offer comparable hosting packages but with multiple C-Class IP address for each website or domain. Some companies provide branded name servers on separate C-Class IP addresses. This allows the client to host more than one site on the same server with the same company. Some companies provide free consulting on SEO along with the hosting account, while some offer help with web development, SEO Tools, VPS Hosting, etc.
You cannot optimize your website until you have a site in the first place. So, before you can deploy your SEO hacks, you need to host a server and buy a domain name. Or, if you already have a domain, you need to buy either server hosting or any cheap colocation service. Colocation is when you procure your hardware over a third-party infrastructure. Though not as cheap as dedicated server hosting, Colocation offers better control over your server. To date, Colocation remains one of the initial steps towards digitalization and SEO hosting. In fact, it can aid your SEO. Over time, page load speed has become one of the influencing factors in determining website rankings. The performance that comes packed with even the cheapest Colocation can help you surge traffic on your website by benefitting your SEO with higher uptime availability.