How to purchase a dedicated server
Buying a dedicated server is not a decision that you should make in haste. This is because a dedicated server is very expensive compared to a shared server or VPS server. Companies which get a lot of incoming traffic must choose to sign up for dedicated hosting because a dedicated server will guarantee better security, higher uptime, and reliability, better scalability, support, and flexibility. Order our cheap dedicated server.
Buy dedicated servers that provide 24/7 support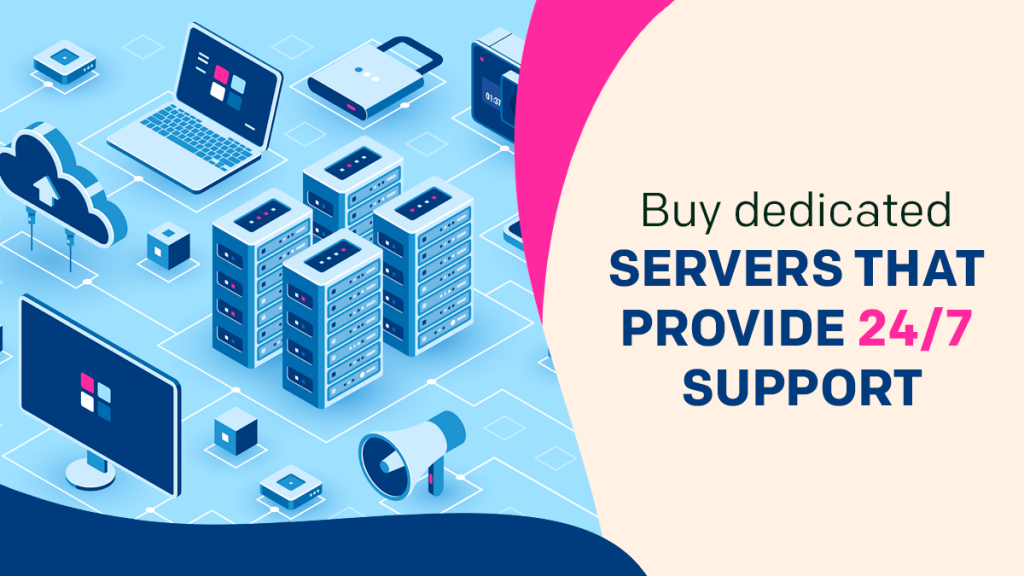 However, before you buy a dedicated server, you should ensure that the hosting provider can offer your round-the-clock support through live chats, phone calls and emails. Without continuous technical support, it is not possible to resolve glitches which may happen from time to time. Such issues when undetected and unresolved are known to cause websites to slow down. Latency and downtime cause your website to gradually lose network traffic and visitors tend to move away to other sites that offer better customer experience.
Buy from hosts offering both Linux and Windows dedicated hosting
When buying dedicated servers, you should also ensure that the host is well equipped to support both Linux and Windows dedicated servers. Linux servers are typically low-priced but when you run applications involving.Net technology, you will need to choose a Windows-only environment. Windows dedicated servers are costlier as they have licensing fees involved. Additionally, with Windows dedicated servers, you must ensure that the host provides you with good quality hardware and not a bunch of outdated components. Check out our dedicated server hosting plans for further details.
Choose dedicated machines with more robust security
The dedicated server hosting you choose should be able to offer you robust protection from hacking attempts through the effective use of firewall and antivirus. More importantly, patches and upgrades should be up to date and configured just as they are rolled out by the provider.
Know your server's uptime and related SLAs
Carefully review the stated terms and conditions and the contract binding you and the dedicated hosting provider. Note that the Service Level Agreements are binding in case conflicts arise, so ensure that you have a fair idea of what is in the contract, what's covered and what isn't.
Do ask your host to exclusively mention the amount of uptime you are being assured/guaranteed. Assured uptimes do not usually come with a compensatory clause (should there be a violation) but guaranteed uptimes do.
When to buy a dedicated server?
It is a good time to purchase a dedicated server for you business –
– When your website needs to grow
Your website has outgrown its previous shared or virtual private server.
– When your website needs more bandwidth
– When your website needs more security
– When you need more control
– When you want to be better prepared for data disaster
– When you can shell out some money for the premium server configuration
– When the expertise needed to upkeep a server isn't available
– When you need a predictable performance
– When your website is I/O sensitive
– When you want your website 24*7 on
If any of the above circumstances describes your case, it is about time you bought a dedicated server.
– World-class server management
– Scalability on demand
– Solidified security and isolated environment
– Administrative access
– Unexpected server configuration
– 24*7 high availability
– Multiple and free operating system choice
– Freedom in the choice of hardware
– Varied options of control panels
– Top-tier technical support
Managed and Unmanaged Dedicated Hosting: What's good for you?
A managed dedicated server implies that all maintenance, upgrade, and deployment will be taken care of by the host. An unmanaged dedicated server, on the other hand, is to be maintained and configured by the customer himself with little to no help from the provider's end.
A managed dedicated server is not necessarily better or faster than its unmanaged counterpart. Depending on your use case, you may choose either of the two options.
When to choose an unmanaged dedicated server?
When control is what you ultimately want from your server.
You want to save a little on the procurement cost and do not mind some extra efforts.
When to choose a managed dedicated server?
When you can trade some control for convenience
When the expertise needed to maintain a server is not available on-site