How to make a VPS out of a dedicated server?
Are your business running on a dedicated server, and do you wish to upgrade it to a Virtual Private Server (VPS)? Using VPS to host your website is undoubtedly the best option. It offers complete privacy, control, insanely cool hardware, and server configurations to suit your business needs. Well, moving from a dedicated server to VPS may seem like an easy task, but it can be trickier to create a VPS server yourself. 
How to make a VPS server out of a dedicated server 
In this article, we will share how to make a VPS server out of a dedicated server in a few easy steps. But before moving on to that, let's understand what a dedicated server and Virtual Private server are.  
A dedicated server refers to a physical machine, solely or completely dedicated to a client to cater to its requirements. On the other hand, a VPS (Virtual Private Server) imitates a dedicated server and provides complete root access to the user. A dedicated server is sliced into multiple virtual private servers using virtualization technology. A virtual server is capable of running its copy of the operating system. It makes the best use of resources and enables a business to maximize its investment in hardware.
The topmost benefit of using the VPS hosting service is that you get direct access to more server resources, which, in turn, help you improve the overall performance of your website.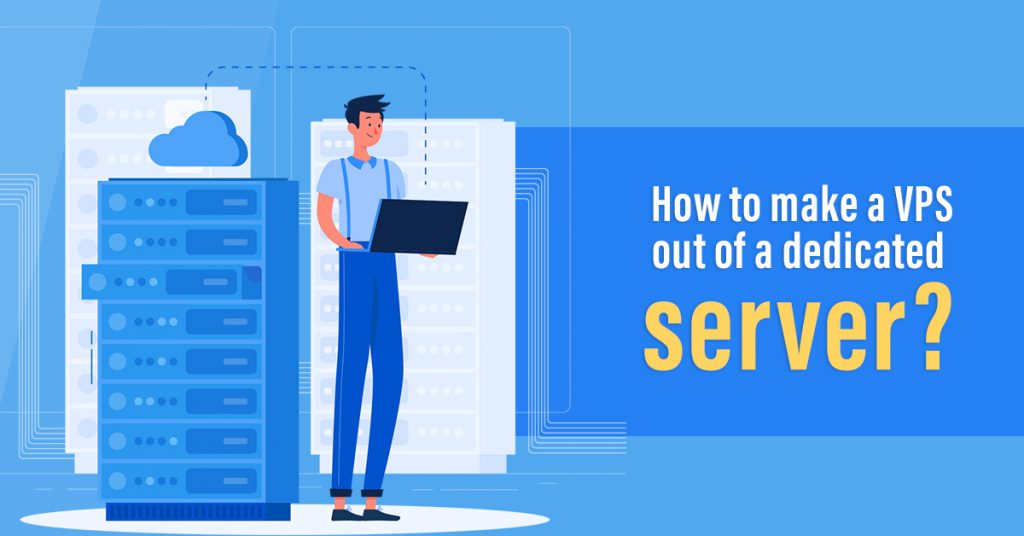 The following steps need to be followed to build your own VPS server out of a dedicated server:
Step 1:
Check if your physical server is capable of meeting the hardware requirements of the hypervisor. A hypervisor is an operating system, which manages virtual servers and requires explicit hardware to install.
Step 2:
Save your data or appliance configuration, running on the current physical server.
Step 3:
Install the hypervisor by inserting the disc in the reader.
Step 4:
Boot the hypervisor console and refer to the user manual for creating a VM (Virtual Machine). You can customize and scale up/down the RAM, CPU power, storage, and memory to meet your business requirement.
Step 5:
Install OS by using an image of the disk stored on a hard disc drive. Next, configure and install the appliance.
Step 6:
Repeat the entire process for all the appliances required to be installed in the virtual server.
Here are some tips that you can follow while replicating the above process:
Hypervisors may be available as open-source or as a proprietary version.

Some hypervisors allow you to scale up or down memory and CPU power.

If you are converting multiple identical dedicated servers to a VPS server, you can transfer Virtual Machine from one server to another without any service interruptions.

You can easily convert a dedicated server to a virtual server by using a VMware convertor or XenConvert. 
Are you wondering what benefits a VPS server can bring once converted from a dedicated server? Once you create a VPS on a dedicated server, you will start experiencing the benefits. But you might think that it's a lot of work to make VPS from a dedicated server. Then let me assure you that the long-term benefits are outstanding, and the process is not that hectic. 
If you are still wondering why you must use and make a VPS server, here are some benefits that make it worth trying-
Speedy machine creation

Growing and expanding becomes easy

 Lower cost

Easy backup through snapshotting

Some additional features

Freedom with the type of software

Completely managed service

Satisfactory technical support 
Hence, create a VPS server on a dedicated server and enjoy all these benefits.
So now that you know how to create VPS on a dedicated server, it is time you must upgrade your hosting services, as there are numerous benefits of switching to a VPS server from a dedicated server. All you need to do is to follow the above-mentioned steps and easily create a VPS server on a dedicated server. 
Moving to a Virtual Private Server (VPS) will provide you a lot more room to experiment with server configurations. You will also get additional features to try to get a better website performance. 
If you still have questions about how to build your own VPS server? Contact our experts today at [email protected] and get all your questions answered quickly. 
So why wait?
Let's get started.