What is File Hosting Service?

A file hosting service is an Internet hosting service specifically designed to host user files. It allows users to upload files that could then be accessed over the internet from a different computer, tablet, smartphone or other networked device, by the same user or possibly by other users, after a password or other authentication is provided. In most cases the services allow HTTP and FTP access. Related services are content-displaying hosting services, virtual storage, and remote backup.
What is a File Host Server?
Just like there is an underlying cloud server in cloud hosting services, the server underpinning file hosting is called the file host server. These servers are almost the same as any other server except that they have been provisioned using the cloud model. Several such servers are pooled together and combined under a single file hosting service.
What is a file hosting service called?
A file hosting service is often called storage or simply file hosting. The term has been interchangeably used with cloud storage and remote storage solutions. Online storage or internet storage are also common epithets among developers.
What is the Function of File Hosting System?
File hosting system, also commonly called file hosting service, is an internet-delivered service used to host user files. Photos, videos, or any other file type can be uploaded to file hosting servers and downloaded or shared over the internet. The upload typically takes place not through a local network but the internet, making files accessible to all the concerned users, regardless of where they are located.
Best File Hosting Service Examples –
       

Google Drive

       

DataBaGG

       

Dropbox

       

OneDrive by Microsoft

       

iCloud
Though there is a plethora of file hosting services, these are the ones most widely known and adopted.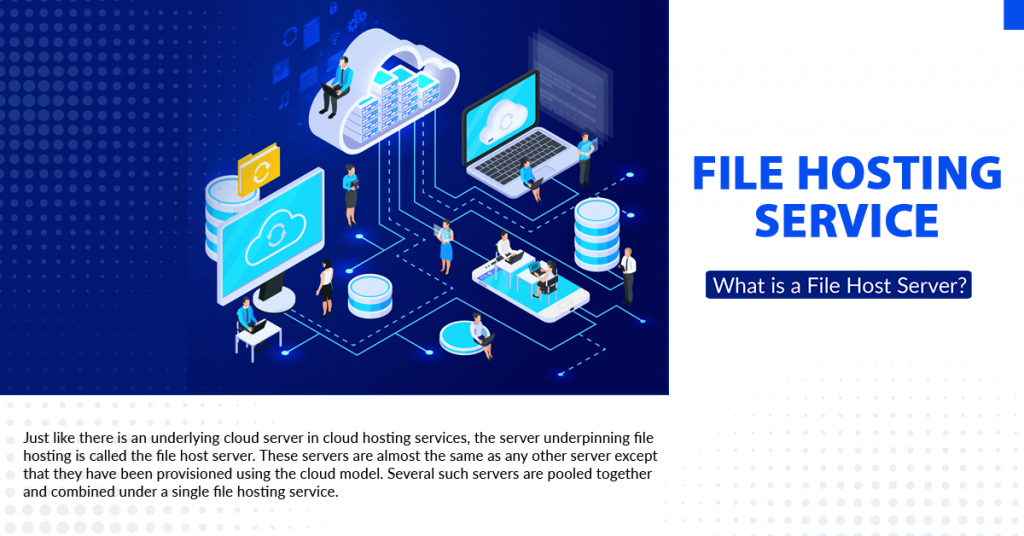 Individual vs Corporate File Hosting
Depending upon who you are – corporate or individual – your requirements for file hosting services vary drastically. Corporate giants tend to adopt a more robust host with unlimited bandwidth and high speed data transfer. Since the amount of data being transferred is enormous, a little compromise can result in huge losses.
Individuals tend to be not so specific when it comes to choosing a file hosting service. We have seen individuals preferring a cheap and reliable host. Though intriguing, this seems to make sense. Given individuals predominantly upload media files in file servers, transfer speed is not something they concern themselves with – and nor does it matter.
Advantages of Faster File Hosting
Fast is a matter of perspective and often changes depending upon who you ask. Though, generally, when it comes to internet related services, the faster the better. Fast hosting is advantageous in several ways –
 

First, the files are

quickly backed up

and are, thus, safe from accidental losses.
Second, under circumstances where you need access to a file immediately, the same can be downloaded in very little time. So, there is 24/7 access to data.
File Hosting Service – Takeaway
A file hosting service is what one would normally call 'cloud storage'. The best file hosting services are those that are powered by data centers that are Tier-III or higher. Cloud storage is an apt file hosting service example. In fact, the two terms mean the same and can be used interchangeably. The prime reason why such services have been touted as the 'best' is because it allows for top-notch accessibility and reliability. When you subscribe to our file hosting service, your data is backed to multiple servers. Thus, in any case, the server runs into a glitch, your files are still accessible from other parallel systems. File hosting service is faster and cheaper than any other conventional physical storage. In order to make customers more aware of file hosting services, some companies initially offer free file hosting service. Even with the most secure file hosting service, you will only pay 0.12 cents per GB per month of storage.